Did you know this about the IW Knights of Columbus?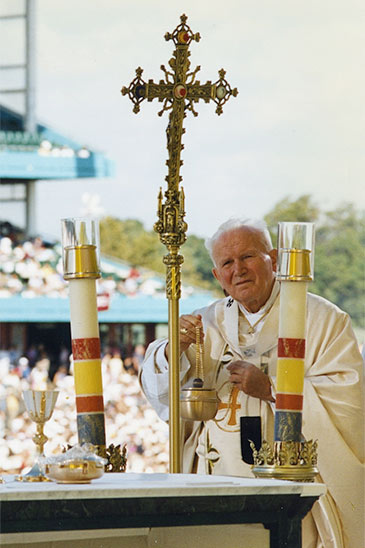 As we mentioned last weekend, it has been forty years since Cardinal Karol Wojtyła from Poland was introduced to the world as the third bishop of Rome in one year, taking the name of John Paul II.  We mentioned the Knights of Columbus had a strong relationship with St John Paul II.  We listed 5 of 10 facts about that dynamic relationship – the following are the remaining five facts.
John Paul II wrote papal messages to the Knights to commemorate their Supreme Conventions. You can read them on our Facebook page.

John Paul II canonized six Knights. They were the Mexican martyrs killed during the Cristero War in the 1920s.  He also beatified Carlos Manuel Rodriguez, a member of the Knights of Columbus in Puerto Rico.
The Knights has supported World Youth Day through the years, an initiative of John Paul II, including the largest English-language site in Kraków in 2016.

Supreme Knight Anderson discussed the Cause for Canonization of Father Michael J. McGivney with Pope John Paul II in April 2002.

The Knights of Columbus received the gift of a small oil lamp used by Pope John Paul II at the World Peace Summit he hosted in Assisi in January 2002.
BONUS FACT: Since John Paul II is a saint, our relationship with him is never over!  Let us pray that he is an intercessor on our behalf, and for the whole world.
The entirety of this article can be found at www.KofC.org or find the link at either www.IWKnights.com/bulletin or at facebook.com/IWknights 9981 and NOW on Twitter at twitter.com/IwKnights.
Links Related to this week's column:
---
Rack-in-the-Back........
Please shop our book and CD Rack-in-the-Back.  Suggested Donation for the CD's is $3.00/title - books on the top shelf are FREE.
We would like to talk with you about becoming an IW Knight.  Please visit us on-line at our web site: www.IWknights.com/AboutUs.  Or call Rob at: (314) 973-2373.
---