Did you know this about the IW Knights of Columbus?
Over the next several weeks we will review a number of major issues which the Supreme Knight and staff discussed with state deputies during organizational meetings held in early June.  Nearly 80 first and second year state deputies attended from the United States, Canada, Poland, Mexico, Philippines and the Dominican Republic.
During the opening business session, Supreme Knight Carl Anderson spoke about the importance of the Knights' charitable work and emphasized the importance of councils working closely with their pastors and parishes.  He also stressed the new 'Faith in Action' program model and its connection to our Building the Domestic Church priority.
OUR NEW PROGRAM MODEL – FAITH IN ACTION
"What the Knights of Columbus is doing in thousands of different ways every day is putting our faith in action.  Putting our faith in action in ways that people see and understand and know bring value to people's lives, bring value to our communities, bring value to our country -whichever country we are living in.  So I urge every single council to embrace this program and to carry forward projects within each of these categories."
BUILDING THE DOMESTIC CHURCH
"The domestic church is foundational to Faith in Action.  Pope Benedict told us that the church has three missions. It has a mission to pray, it has a mission to evangelize, and it has a mission of charity.  Our domestic church program simply says the Catholic family has the same mission.  It has the mission to pray together, it has the mission to build up each other in the faith, and it has the mission to practice charity among the members of the family and for the family to reach out to other families.  How many fewer individual Catholic families would be broken and suffering if we could get our families to pray more, build-up each other in the faith, forgive, and reconcile and practice charity?"
Follow the link on www.IWKnights.com/bulletin or at facebook.com/IWknights 9981 and NOW on Twitter at twitter.com/IwKnights to read the entire article published on www.KofC.org
Links Related to this week's column:

ENTRUSTED WITH THE FUTURE
Knights of Columbus Press Release   (6/11/2018)

STATE DEPUTIES FROM AROUND THE GLOBE GATHER IN NEW HAVEN TO LEARN ABOUT THE KNIGHTS OF COLUMBUS' NEW INITIATIVES AND DISCUSS HOW TO ACHIEVE THEM.

K OF C CHARITY RISES TO RECENT CHALLENGES
Knights of Columbus Press Release   (6/11/2018)

RECORD-SETTING DONATIONS IN 2017 KEEP PACE WITH MAJOR NEEDS.

Archbishop William Lori of Baltimore, MD
Supreme Chaplain of the Knights of Columbus.

Main celebrant for this and the other Masses celebrated throughout the weekend. He was also the Homilist for each Mass.
---
Rack-in-the-Back........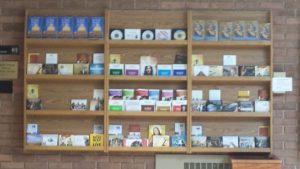 Please shop our book and CD Rack-in-the-Back.  Suggested Donation for the CD's is $3.00/title - books on the top shelf are FREE.
We would like to talk with you about becoming an IW Knight.  Please visit us on-line at our web site: www.IWknights.com/AboutUs.  Or call Rob at: (314) 973-2373.
---